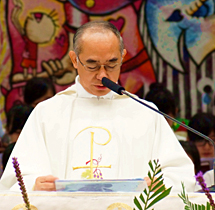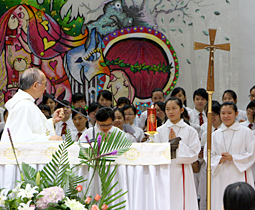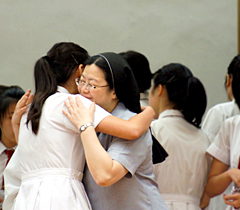 On July 8, Reverend Vicar General, Dominic Chan, Sr Veronica, teachers and students celebrated a new chapter in the life of S6 graduating students with a Mass.
In Reverend Vicar General's homily on graduates' role as salt of the earth, he put emphasis on the significance of blessings, passion and service. The Vicar General edified the graduates to live a life of gratitude, generously sharing what they have received from Sacred Heart education and rendering service for the community.
After the message, student representatives took turn to present their symbolic offering at the altar, making up a picture of a kite soaring high in the sky at the mercy of the wind. It summed up their hearty thankfulness to what the teachers and staff have done for them. The Principal, Sr Veronica presented each graduating student with a bracelet of love, in addition to the pearly angel pendant given in the graduation dinner.
Such keepsakes would certainly remind the youngsters of what to hold fast to when making choices.
Followed the Eucharist, Reverend Dominic Chan blessed the Auditorium, witnessed by the Principal, Vice-Principal, Assistant Principal, School Managers, RME teachers and the Head Girl.
A few S6 students then shared their inspirations from their study trip on sustainability projects in Denmark in May. With the support of Li and Fung Scholarship for Global Exposure, the youngsters had the most eye-opening visit to many an establishment in Copenhagen, a prominent city of energy conserving projects and good practices in sustainability. The visits brought home many thought-provoking questions about our city's sustainable projects.
The finale of the day was our S6 students' awesome recap of school life and their wonderful ways of expressing appreciation to teachers and staff's efforts in the last 6 years of their College life.