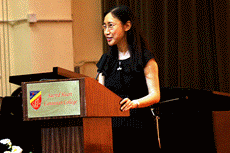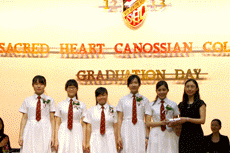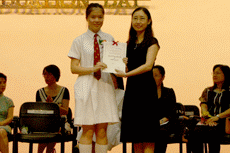 Ms Alice Lau, Permanent Secretary of the Chief Executive's Office, School Alumna, addressed the audience on the Graduation Ceremony in College Hall on 10 July.
Among the distinguished guests were Ms Cynthia Chan, the Chief School Development Officer of the Education Bureau, Ms Grace Wong, the Vice-Chairlady of our Alumnae Association, Ms Winnie Yu, the Chairperson of our Parent-Teacher Association, Ms Josephine Tjia, our School Manager and Sr Agnes Law, our School Supervisor.
In addition to scholarships and academic awards, the guests presented certificates and trophies to award winners who accomplished in different fields, including Hong Kong Schools Speech Festival, Inter-School Athletics Competitions, Inter-School Basketball Competitions, Hong Kong Schools Music Festival, Hong Kong Schools Dance Festival, enterprise-initiated business projects, arts contests and many more.
To name but a few of our guest of honour's exceptional capacity to excel despite challenges, Ms Lau received the South China Morning Post Student of the Year Award in 1987 with brilliant academic results, leadership and awareness of social issues. Upon graduation from the University of Hong Kong, she started civil service in various bureaux and departments, including the former Chief Secretary's Office, the former Constitutional Affairs Branch, and the former Finance Bureau. She also held positions in the Chief Secretary for Administration's Office and the former Economic Services Bureau.
On the auspicious occasion, our guest of honour underlined a few useful tips for our graduates: be receptive to changes, be at ease in the face of adversities, and be open to risk-taking.  She added that we would certainly meet new faces, make new friends, learn life lessons and improve immensely if we embrace adversities and employ a proactive approach to problems.
Calysta Yan, our Head Girl responded with a neat vote of thanks.  On behalf of the graduates, she acknowledged the School Supervisor, the School Principal, teachers, technicians, and janitor staff's efforts in providing them an environment conducive to nurture their talents and develop their potential.
Sr Agnes, the School Supervisor then presented Long Service Awards to experienced teachers and janitor staff who have contributed to the well-being of the school.
The guests, parents, teachers and students were treated to a 67-strong SHCC School Orchestra's awesome interpretation of the 1st, 3rd and 5th movements of Carmen Suite, under the baton of Mr H.Y. Kwok.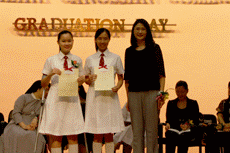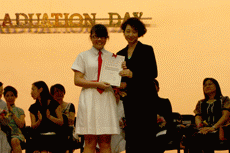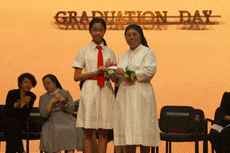 Speech by Guest of Honour, Ms Alice Lau.